Back to all posts
Posted on
Why We Wear Orange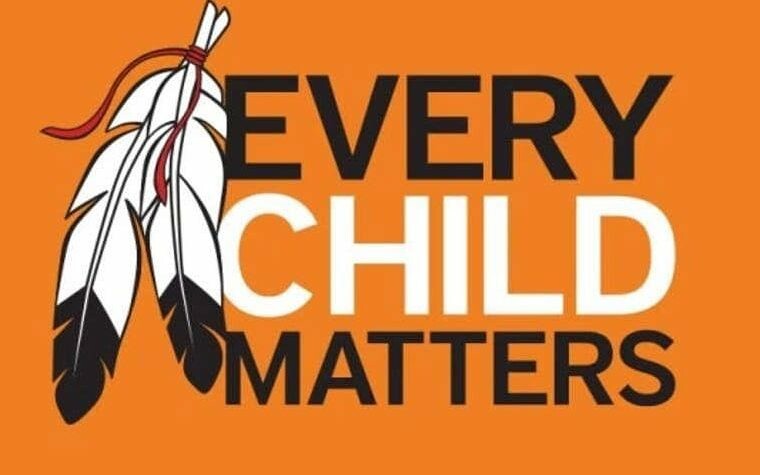 We would like to acknowledge the traditional territories and oral practices of the Blackfoot Nations, which includes the Siksika, the Piikani, and the Kainai. We also acknowledge the Tsuut'ina and Stoney Nakoda First Nations, the Metis Nation, and all people who make their homes in this part of Alberta. 
We wear orange to acknowledge the impact of Residential Schools
Saying a land acknowledgement or participating in truth and reconciliation week is one way to recognize a dark moment in our country's history. It is recognition that there are individuals around us who are still experiencing trauma in their family, still need closure for those who were lost, and are still learning to trust. The decisions made throughout Canada's history have created the country that we live in today. We need to take time to learn about not just the moments to be proud of, but the hard moments as well.  
Orange shirt day is a day set aside to reflect on the events that took place at residential schools and to honour the children and survivors who attended these schools. The orange shirt is based on the experience of Phyllis Webstad of Stswecem'c Xgat'tem First Nation and is a visual reminder how the culture and freedoms of the Indigenous peoples were stripped away. On the first day of school, Phyllis had her new orange shirt taken away from her, but today, the orange shirt shines bright and is an opportunity for us to discuss racism and bullying within our classrooms. It's an opportunity to learn about the impact we can have on others - how we can be PEACEMAKERS in our world.  
We wear orange to acknowledge the children who never came home
The announcement of 215 unmarked graves, mostly children, in May 2021 shocked the world. The remains of even more children have been found since that initial discovery - buried nameless, unmarked, lost without ceremony. This was not, however, shocking to many Indigenous families who have been sharing this information for years. It is only now that they are feeling heard. It is now that they can start down the path of healing. 
We know how important children are to Jesus. In Luke 18:16, Jesus says, "Let the little children come to me, and do not hinder them, for the kingdom of God belongs to such as these". Mark 9:37 shares His message further, "Whoever welcomes one of these little children in my name welcomes me; and whoever welcomes me does not welcome me but the one who sent me." This is a challenge we, as Christians, can take on - to love and care for the little children and families around us. This is how we build a stronger community. Our acknowledgment and participation in this week of Truth and Reconciliation is one way that we can say to our Indigenous neighbours that, I believe you and I want to do better. 
We wear orange to acknowledge that we need to learn more and do better
The process of truth and reconciliation is one that connects with the heart of our faith in a strong way. It is a process of listening to the people who have been hurt, acknowledging the role the government and church played in this hurt (acknowledging our sins), asking for forgiveness, and committing to doing better. 
Unfortunately, Indigenous peoples continue to face racism in our society today.  As Christians, we are called to listen, learn, and take action. We are asked to speak up for others who need support and to demand justice (Proverbs 31:8). Action takes place in the way we speak, pray, act, and think. Reconciliation is an act of restoration. 
Wearing an orange shirt on September 30 is one step towards a more empathetic, kind world where everyone feels safe. I encourage you to take some time to get educated, listen to stories from Residential school survivors, and learn about the beautiful elements of the Indigenous culture. Our prayer is that God will show us when and how to speak and that through our small steps, we can bring the world a little bit closer and bring hope to those who need it.
We wear orange to acknowledge that EVERY. CHILD. MATTERS.