Back to all posts
Posted on
Menno Simons Mustangs are PEACEMAKERS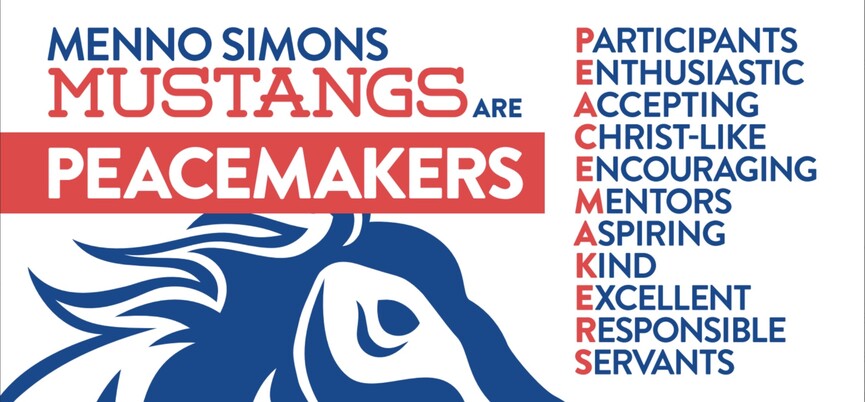 At Menno Simons we challenge our students to be PEACEMAKERS.  It is a life lesson that we focus on everyday preparing our students for an enriched life.  These lessons are inspired by what we believe Jesus is teaching us.
"What if every student who came through our doors so absorbed with each descriptor of the PEACEMAKERS acronym, they lived it out in their life? It would not only influence what happened in our hallways and playgrounds but also what our students carried out into the neighbourhoods and workplaces they found themselves in. And dare we hope that these children would go into all their future arenas with the influence of peace in their conversations, their communities, and even their conflicts? What if we sent out our students each year determined to be PEACEMAKERS in every way they could? What if only one of them picked it up as a vibrant concept stirring in their heart and soul? It could happen. At the very least, we could change our corner of the world."
Here is the acronym to help our students learn these life lessons. Our banner hangs in the gym for all to see.
P - Participants
E - Enthusiastic
A - Accepting
C - Christ-like
E - Encouraging
M - Mentors
A- Aspiring
K - Kind
E - Excellent
R - Responsible
S – Servants
Excerpts from "Simply Sacred, Stories from School", by Joanne Wiens.