Back to all posts
Posted on
A Year to Remember!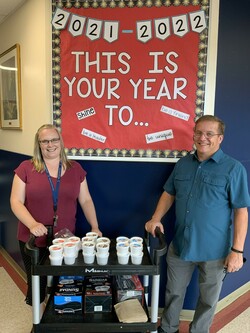 It was such a privilege to be back at Menno Simons Christian School again this year - and what a year to remember! Covid-19 mandated protocols required us to begin yet another year with closed doors and social distancing; we weren't entirely sure how the year would play out. We did not let that faze us though. We sure found ways to have fun!
Thankfully, 2021/22 also turned out to be the year we started opening everything back up. Athletics, field trips, buddies, sitting together in groups, seeing each other's faces - it was all a go! It felt so good to have parents and families back in the building for chapels, our spring concert, volunteering, and graduation ceremonies. We missed the energy that comes alongside our community being together in one place. Being able to worship together again really brought goosebumps to my arms. 
Our theme verse this year came from Psalm 46:10, "Be still and know that I am God." This verse is our constant reminder that God is still with us, still loves us, and still takes care of us throughout all the chaos that surrounds us. We have seen so many examples of His protection in our little school this year.
As we leave this school year behind, I pray that you go out into the world and be the PEACEMAKERS that the world needs right now. With every interaction, be servants, encouraging of others, and kind. Thank you for a great year!
Dayle Vienneau, MSCS Principal