Back to all posts
Posted on
Teach them to Remember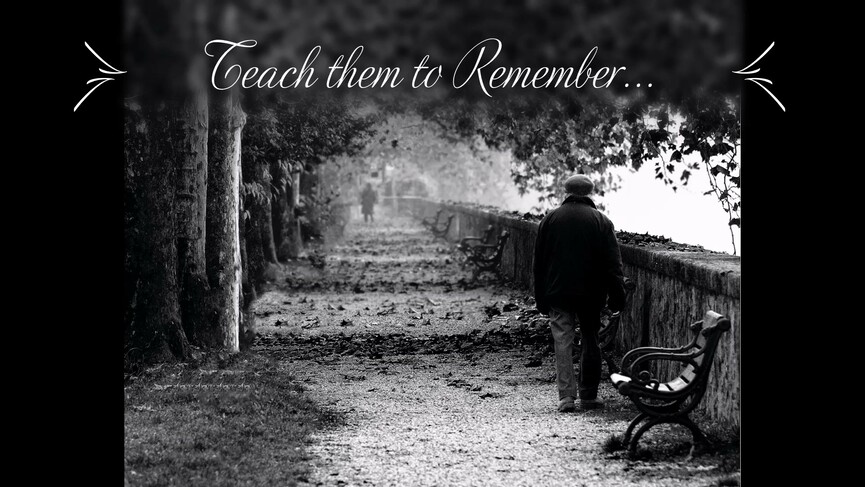 'As a child I was told that grandfather spent an hour every day and evening listening to God. So, when I came suddenly upon my grandfather one day seated motionless in his armchair with closed eyes, I knew he was not asleep. He was talking with God. I stopped short where I was and stood very still. Perhaps if I listened intently enough, I might hear God's voice speaking to my grandfather. But the room remained quiet, not even the faintest whisper reached my ears. After a long time, my grandfather opened his eyes, saw me, and smiled at me gently. These moments of intense listening for God's voice in the room with my grandfather are among the most vivid memories of my early childhood.' Edward Robinson, The Original Vision
'We shall not cease from exploration, and the end of all our exploring will be to arrive where we started and know the place for the first time.' T.S. Elliot,
The Hebrew language treats the future and past in an unusual way.  The past is connected to the future, in the sense that moving into the future is like being in a rowboat, focusing on a past point, a place where you came from.  In the Jewish Bible, what we call the Old Testament, the future meant keeping your eyes on a point in the past while moving forward to some future. The past would guide you safely and surely to where you needed to go. Put it another way, for the Jewish people, the future was connected to the past, it was behind their backs, and was not for the Jewish people to see. 
The interesting question is why? Why was the past so important, and in a sense, the future not? Maybe for the Jewish people, knowing the future would trump their faith and trust in God? Or, maybe the Jewish people had the practice of 'forgetting' down to an art and a science. 'Not remembering' appeared to be a well travelled way of the Jewish people to be in their world. They were so practiced in not remembering that they had to be reminded, time and time again, to remember.  There are well over 240 references to 'remember' scattered through the Jewish Bible, what we call the Old Testament.  240 references to 'remember' leads me to think God may have been trying to make a point?
In these uncertain times, perhaps we can learn something important here-to take up our past and future in a similar Hebrew language way.  Perhaps we tend too much time thinking about the future anyway, tyrannised by the 'what ifs' and 'if/then? Maybe it is in uncertain times like these that we need to not worry about the future but 'sit in a rowboat' and look to where we have come from.  It might be a good idea for us, in these times, to practise remembering?
Here are some suggestions for practising remembering, a few practical ways for us to look to the past as we and our children together move into an uncertain future, to draw from the wisdom of not forgetting.
With a friend, talk about a childhood memory, omit previous experience that seems to have made a difference in you life. In your view backwards, admit to recognising God's presence.  No need to explain or analyse, just tell your story. My suggestion here is to invite your children to listen in on the conversation. Rather than conclude the conversation by using an isolated scripture that you believe would prove your point (we call that proof texting) about God's presence in your life, ask your young person to tell their story of feeling God's presence in their lived experiences.
Or, how about remembering 'out loud' with your youngster listening in, those times in the past where you actually heard that whisper from God? Years ago, in a particularly hard time, on a run on an early, silent June morning, a flock of Canada geese flew over head. I could hear their wings beating on the air. I was sane (I think) but the whisper to me was real, 'life is enough.' For you that may sound tame; for me it was a paradigm shift. All kinds of good truths followed. God loves me and Jesus took care of all the rest of the important business. 'Life' indeed was then and is today, enough.
Or, how about remembering models of virtue, character and faith, people who have been fully alive, bringing glory to our Creator by their lives. For me I have a stable full of people I keep in my back view.  Charles Mully and his incredible wife are such a model for me.  Imagine the largest family in the world, over 12,000 children adopted over thirty years of living with faith and prayer. Google Mully Children's Family and with your youngsters watch the videos that showcase what a life of trust and faith looks like.
Or, think the about the backwards glance we are encouraged to take while going forward, by the writer of the letter to the Hebrews in the New Testament. The writer says to '….lay aside every worry and weight, and look back to Jesus, the beginner and finisher of our faith…otherwise you might become tired and give up…'
So what? Now what? How about your children and building good memories during these times?
Remember, your children can and likely know more than they can say.  Or, what they know and think can sometimes not be put into words. The worriers among Menno Simon's children are the ones I am most concerned about.  They are the ruminators, the processors who may be anxious, but are not able to put words to their thoughts and feelings.
Edward Robinson's essay The Original Vision, is long out print.  However, I came across it during a course in my Ph D studies completed at Boston College.  He asked adults to describe their 'original vision,' their earliest spiritual experience that they could remember. 
  As a small child one of my favorite festivals was Trinity Sunday. It seemed to me quiet and beautiful, and happening around midsummer became associated in my mind with green trees and flowers in bloom. It was "mysterious" and right, something far bigger than the words used in church about it which sounded to a small child nonsense. But Trinity wasn't nonsense, it was holy, holy, holy as we sang in the hymn, and even a very young child could join in a sort of "oneness" with all things bright and beautiful and worship this Something so great and lovely that it didn't matter at all that it was not understood. It just WAS.
Neither my mother nor my father attempted to explain or describe God to me. He was indescribable as far as I was concerned, a Creator. But I am sure my parents increased my sense of God's omnipotence and mystery by their own awe and reserve in discussing the subject.
My first real apprehension of religion that I can recall came from the housemaid, Alice, who was an enthusiastic follower of the Salvation Army. She would teach us choruses which we sang all together, "Pull for the Shore, Sailor"…and it was with her one evening that I first got an idea of the immense and lonely blackness of the night, and the distance of the stars, hence a sense of the power and strangeness of God, for I don't think I ever questioned His existence.
Let's build good memories for our children, during this time.  When they look back, the difference maker in their lives may or may not be the 'preaching' we delivered to them, your advice to not worry, don't be anxious and so on.  I am sure that the real difference maker will be your example to them, your modeling of trust and faith in God, your remembering 'out loud' with them.  Maybe St. Frances of Assisi had it right when he told his disciples, 'Go and preach the gospel, and if you have to, use words.'
I think that John O'Donohue, in Walking in Wonder, gets it. He refers to big learning outcomes made possible only by being in community, where modeling is of something real, including modeling of remembering. He describes the learning outcomes as a divine and wild imagination, a birthing of ways of being in the world that are tinged with freedom, memories of experiences and good thoughts, feeling sheltered and protected by right relationships, belonging to something big and being enveloped with the mystery of everything. A tall order but maybe this crazy time brings it all within our reach, and provides us with our program of studies for our children, a curriculum rich with teaching and learning gifts, to us and our children.
God bless you as you set about to help your children remember.
Bernie Potvin, MSCS Principal
Comments
Dr. Potvin you taught me in 1992 at Concordia college in Edmonton. 30 years later I still think of you and your words....you were so kind and helpful to me. I will never forget you. You made me see God as not a place but a presence. It didnt matter ehatcreligion or church you attended. I have been a teacher for 25 years and I couldn't have been prouder than when you told me you thought I would be one of the good ones. I only hope I have been and will continue to be. Just wanted to reach out.