Back to staff directory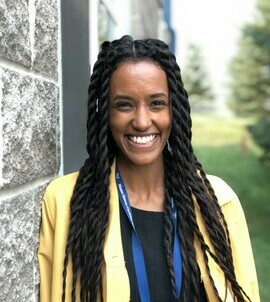 Making Connections Worker
Hello! My name is Leah Ekubazgi and I am a Making Connections Worker for Calgary Christian Elementary and Secondary Schools, as well as Menno Simons Christian School. I recently graduated from the University of Calgary with a Bachelor of Social Work Degree, and I am thrilled to step into this role with the Palliser School Division.
As a follower of Jesus, I am so excited to be in an environment where my professional practice and love for Jesus intersect! I am passionate about working with kids and youth and consider it a privilege to connect with students and families in this role. As a Making Connections Worker, I have the opportunity to promote mental health, create space for students to grow in social and emotional skills through small groups and class presentations. In addition, I am here to provide support to both students and families in connecting them with resources and additional support within the community.
Some fun facts about me: I love coffee, the outdoors, and spending quality time with friends and family. A few of my hobbies include basketball, skateboarding, and thrift shopping!
I look forward to connecting with you this school year! If you have any questions please feel free to contact me leah.ekubazgi@pallisersd.ab.ca