School Events
Save the Date!
Posted on

January 21st, 2016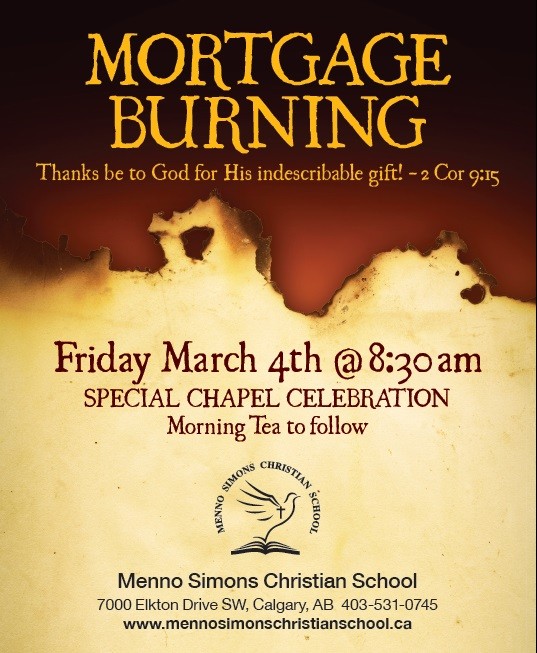 You are invited to celebrate this
important milestone in MSCS's history
as we reflect on past achievements and move forward with
ambitious goals. This Special Chapel Celebration will bring
together our founders, families, teachers and students who
have invested in our community and the MSCS's legacy.
We hope that you can join us!
On October 21, 1980, Dr. David Friesen of Winnipeg, MB called a meeting
to discuss the possibility of founding a Mennonite Elementary School in
Calgary. This meeting was held at Calgary's First Mennonite Church and
resulted in a lot of interest. On November 11th a Steering Committee was
organized with broad representation from the Calgary Mennonite Churches.
Menno Simons Christian School (MSCS) opened its doors in September 1983,
with fifty-six students and five teachers. MSCS rented the St. Patricks School
building that first year and subsequently moved 4 other times (St. Charles
School building, Wildwood School building, Manchester School building)
before purchasing their own land and building on Northmount Drive in 1997.
MSCS quickly outgrew the Northmount Drive building and once again plans
were made to move — this time permanently. A $4.5 million dollar mortgage
was taken out so that land could be purchased in Springbank Hill and a
38,000 square foot facility was built. Classes began on September 4, 2001,
following 128 days of construction.
With the imminent loss of government lease funding quickly approaching
in 2016 the Mennonite Educational Society of Calgary (Society) has focused
on paying off the mortgage. The last two Sweet Interlude Fundraisers
resulted in a lump sum payment of $100K that was applied to the mortgage.
On June 30, 2015 the Society made a final lump sum payment using
surplus cash that had accumulated over the past years effectively
paying off the school mortgage!