School News
Where are you in relation to the stable?
Posted on

December 14th, 2016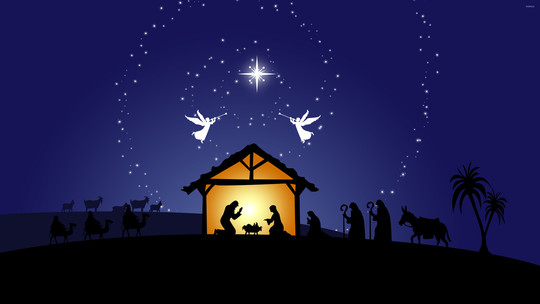 A preposition is a word or set of words that indicates location (in, near, beside, on top of) or some other relationship between a noun or pronoun and other parts of the sentence (about, after, besides, instead of, with).
Where are you in relation to the stable?
From the Bible, we know the sequence of events... Mary and Joseph are travelling to Bethlehem, and when they get there, there is no room in the inn. Beside the inn, however,  is a stable where Jesus is born.  After the blessed event, above the earth, angels rejoice and sing praises to the glory of God. But it is in the stable where we need to invest our thoughts.
Beside the lowly stable is the very busy inn.  It is full of people excited to be together; there is noise, with family members embracing, visiting, and possibly having to yell over each other. There is food filling the tables and children running around the room playing with cousins and friends they haven't seen for a while….sound familiar? Is this what your home is like? Is this what you are focusing on? Family together, the visits, the noise, the fun, the food.  It is welcome and overwhelming….the bittersweet balance of the holidays...is this where your mind is?
Above the stable the angels are rejoicing and singing praises to God. The songs fill the sky with the wonder of the season. The songs proclaim the promise of a saviour. The stars are like diamonds decorating the sky with a covenant of the coming Christ and the shepherds stand in awe of the spectacle.  Can you relate to this?  Are "visions of sugarplums dancing in your head"?  The constant singing of Christmas and winter music blaring on the radio surrounds you everywhere you drive. "You better watch out...you better think twice…." As you drive down the street, the decorations and lights adorn the homes of your neighbourhood. There are inflated giant Santas filling the front yard, and projected lights dancing on the walls of the homes. Is this enough? You think to yourself -Do we need more? Are you focused on the celebration?
IN the stable, are two Godly servants. In the quiet of the night, a baby is born. Did Mary know he was the Son of God? Did Joseph realize this child was going to save the world from sin? Who was this child? 
The Bible tells us that He was expected, the old testament prophesizes his coming  Isaiah 7:14says: "Therefore the Lord himself will give you a sign: The virgin will be with child and will give birth to a son, and will call him Immanuel." Yes, God with us. Think on that. God is WITH us. That truly is a preposition to be celebrated, that God is here, in our midst. That is what Christmas is, the heart of the season.
Ms Weaver, Principal MSCS