School News
To Remember is to Work for Peace
Posted on

November 7th, 2017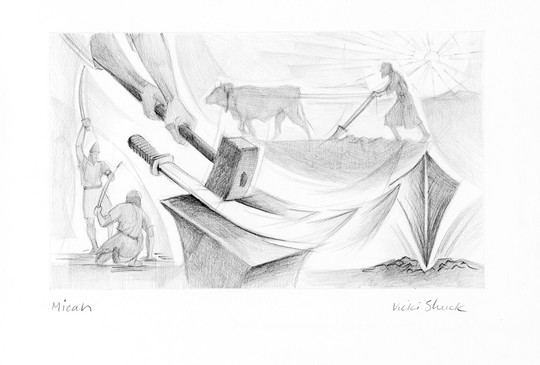 To remember is to work for peace. As a Mennonite school, this is a unique and wonderful time of year to reflect on what it means to be peacemakers in the midst of a violent world. Remembrance Day is an important day in our country, as a day to remember the lives that were lost in past global wars and today, as our country continues to be involved in war. As a peace school we have the privilege to remember in a way that honours and recalls Jesus' gospel of peace.
Micah 4:3 says, ""In the last days the mountain of the Lord's temple will be established as the highest of the mountains; it will be exalted above the hills, and peoples will stream to it.... They will beat their swords into plowshares and their spears into pruning hooks. Nation will not take up sword against nation, nor will they train for war anymore."
During our peace festival this year, our school is focusing on this powerful imagery of transforming a sword into a ploughshare. We are reflecting on how we might be part of taking something destructive and harmful and molding it into a tool that creates some good.  We will remember and acknowledge past and present violent conflicts to motivate us towards peaceful action today and everyday. This imagery of the sword and ploughshare is strong. Beating and molding a steel weapon into a useful tool is not easy. It takes power and might of a different kind. We are reminded of the power and courage shown by peacemakers of the past, and those today who respond to violence with peaceful resistance; meeting aggression with courageous peace. We are reminded of Jesus' example in the Garden of Eden, resisting the violence of his apostles as he picked up the ear of his enemy and healed him. Jesus was the ultimate peacemaker.
In our community at MSCS and beyond, we all have a role as peacemakers. This may mean doing something small, like responding to an aggressive or hurtful comment with kindness and understanding, or seeking to listen to those who are different from us rather than responding with fear. We are reminded this Remembrance Day that we are the hands and feet of Christ. God asks us to transform our violent thoughts and actions into something that can benefit the world.
Megan Enns, JR Social Studies