School News
The Formidable Mrs Folkerts
Posted on

March 5th, 2018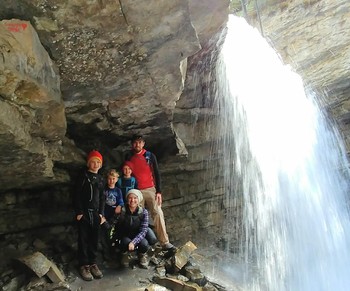 What is my role at Menno?
I am brand new to Menno and get to teach grade 5 & 6 Social Studies as well as Clay Exploration and later this year, Baking.
Why did I come to Menno?
I am excited and passionate about the role that Christian Education gets to play in the lives of kids.  I have spent the last few years learning more and helping other teachers implement certain practices in their own classrooms.  Therefore, the opportunity to jump in here and experience to full breadth of Christian Education seemed like  one I didn't want to miss.
Fun Facts:
I live in a house full of boys! My husband, Trevor, and I have three boys:  Kaleb (11), Mikiah (9) and Oliver (6).   Trevor and I met in high school and have been married for 16 years.  Our home is full of loud fun and every piece of sporting equipment imaginable (times three at least!).
My Favourite Colour: Green, there are so many beautiful shades of green and they remind me of some of my favourite places in creation.
My Dream Vacation: One place I would love to visit would be Iceland, but I still think that no matter how many far flung places I travel, my favourite vacations will always be the hiking, camping, biking, skiing & fishing done right here in breathtakingly beautiful Kananaskis.
My Favorite Food: Coffee is not a food, but I love coffee.  I eat popcorn almost daily.  For meals nothing beats a really great  (homemade) hamburger with all the toppings!  Yum!
Favourite Bible Passage: My favorite Bible verse has long been 1 Peter 5:7 "Cast all your anxiety on him because he cares for you." God's deep, abiding and genuine care for each of us is something I draw on often.  However, I feel like in the past year or two God has been really using the story of Abraham to help me understand what it looks like to walk this life of faith in the assurance of that abiding care.
Fun Fact that nobody knows: Our family has a part time puppy that we borrow or babysit "as needed" for a few months every year.  The only strange thing about this arrangement is the dog's name is Oliver which is the same name as our youngest son.
What I'm looking forward to at Menno?
I am excited to get to know this community, especially the kids in my classes.  I am excited to challenge them and watch them grow as learners and as citizens of God's Upside Down Kingdom.
My prayer for the students:
"My prayer for my students is that they would know God's love in a way that is real and personal.  I also pray that as they engage with the world (through curriculum) that they would feel an ability and desire to respond in faith filled and meaningful ways."