Health & Wellness
Practical Ways to Help Your Child Build Positive Body Image
Posted on

March 2nd, 2017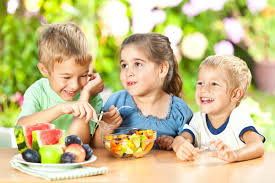 Healthy Choices for Special Events
Schools host a variety of events, including parent teacher nights, sports days, birthdays, school fairs, carnivals, and holiday celebrations. Food is often a part of these events. In many cases, unhealthy snacks and baked goods that are high in fat, sugar and salt are served. However, these occasions can provide a chance to model healthy choices to students, teachers, families and the community.
Here are some ideas for you to support healthy choices at these events:
• Suggest to teachers or parent councils that non-food activities be included at school events, celebrations and fundraisers. Food does not always need to be the focus and children will have fun whether or not food is offered.
• If you are asked to donate prizes, gifts or take-home items for an event, consider sending non-food items such as stickers, pencils, yo-yos, skipping ropes, bouncy balls, puzzles and games.
• If food is going to be a part of the occasion, keep it simple and try to plan with the teacher and other parents to avoid having too many items.
• Talk to your children, other parents and school staff to get some ideas about the healthy food options that kids like. Consider food choices such as: o vegetable and fruit with yogurt dips o hummus with baked pita chips or whole grain crackers o whole grain sandwiches or wraps with vegetables, cheese, lean meats, egg or hummus
Make healthy choices easier to choose at all special event days and celebrations to help children get the nutrients they need. For more information visit: http://www.albertahealthservices.ca/assets/info/nutrition/if-nfs-nb-oct-celebration-foods.pdf and http://www.albertahealthservices.ca/assets/info/nutrition/if-nfs-nb-healthy-party-events.pdf. For more information about healthy eating visit: http://www.albertahealthservices.ca/nutrition/Page12598.aspx
Practical Ways to Help Your Child Build Positive
Body Image Body image is the thoughts, feelings, and reactions a person has toward their own body; this can be a tricky topic for parents. A young person's self-worth is highly shaped while their body, mind, and physical and emotional skills develop. For this reason, it is important to foster positive body image at a young age. The good news is there are many ways to support your child to promote positive body image.
Building positive body image:
• Highlight ways to take care of the whole body through healthy eating, active living, and positive mental health, rather than focus on body weight, size, or shape.
• Encourage balance and variety through eating patterns that support growth and health rather than diet strategies to promote weight loss or changes to body shape.
• Foster open discussion with your child about their body so they can better resist unhealthy pressures from media, society, and peers.
Be a positive role model:
• Speak well about your body; be grateful for its qualities and capabilities. Talk about what your body can do, not about how it looks. Parents who do this teach their children to do the same.
• Show your child how you build physical activity into your daily routine. Introduce your child to some of the activities you enjoy and try some of the ones they enjoy too.
• Model a healthy relationship with food by eating well-balanced meals together as a family.
• Exemplify normal eating – normal eating is going to the table hungry and eating until you are satisfied. It means choosing healthy food most of the time, but not being so limiting that you miss out on enjoyable food.
Children who receive support and respect from adults have stronger self-esteem, better respect for their bodies, and greater willingness to engage in activities. For more information on body image, visit: http://www.teachbodyimage.com/images/pdfs/resourcesandresearch/Key-Messages.pdf http://mediasmarts.ca/digital-media-literacy/media-issues/body-image